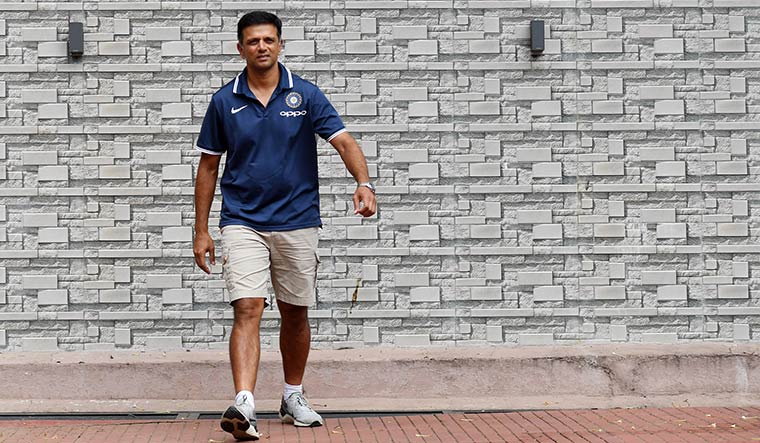 Rahul Dravid, as Dileep Premachandran puts, had "powers of concentration that were almost yogic". Therefore to simply define him as a great cricketer would only be an insult to his dexterity. Stately, poised and upright, Dravid was titled as "The Wall" as a tribute to the sense of dependence that came along with his persuasive batting.
Indian cricket's Nice guy started trying his hand at the sport at an early age of 12. After a compelling start in domestic cricket, Rahul soon caught the national team selectors' eye and posts his international debut on 3 April 1996, the man was all game!
Dravid was a true Test Virtuoso, and one of the lasts of the kind.His was a simple game, found on clean lines. Dravid holds the record of facing the highest number of balls at the crease, more than any of his contemporaries, in his Test career spanning over 16 years. He is even the first batsman to have scored centuries in all 10 Test cricket playing nations. Moreover, being the spectacular slip-catcher he is, Dravid secured the world record for taking most number of catches as a non-wicketkeeper fielder in Test Cricket
In Dravid, Waugh identified a rare mix: the laudable adversary, and somebody who prided himself of making the tough, important runs. Even when his career took an undulating turn, and he was dropped from the ODI team in 2009, Dravid's caliber as a batsman and team player remained unchallenged. Nevertheless, the scrutinizing eyes were difficult to avoid. With starts misspent and atypical dismissals, the lapses in concentration got just as worrying as the unimpressive runs. But Jammy was sure to strike back, and he did. He was selected again for an ODI series in England in 2011, surprising even Dravid himself. However, Dravid eventually announced his retirement; first from ODI and consequently from Test and domestic cricket. Nonetheless, lead the Rajasthan Royals in the 2012 Indian Premier League.
Anybody who keeps even the slightest interest in cricket would be aware of the invincible sportsman in Dravid. His records are telling and his integrity loud. When the curtain came down on the ever glorious cricket journey of India's finest number 3, India waved farewell to a noble man, one who was guileless in his plain love for the sport, one who puts home felt humility in the first place.
Inspired? Have questions about the man? Well you can directly ask him on Xpert. Make sure you check Rahul Dravid's profile. Xpert will help direct all your questions to him or any celebrated individual of your choice.
Xpert is designed to help turn our idols into our teachers. It is the largest Q&A platform having a knowledge database of all that our idols have spoken about. Xpert is perhaps all that you need to learn from an expert.